Introducing Temple Ner Tamid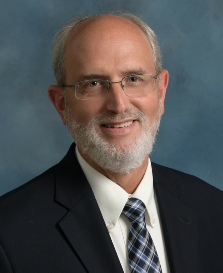 Rabbi Richard E. Perlman
Rabbi Richard E. Perlman was appointed as the Rabbi/Spiritual Leader of Temple Ner Tamid on September 1, 2016. On March 1, 2019, he assumed Cantorial responsibilities. Prior to moving to Peabody, Rabbi Perlman held the pulpit and served as the Spiritual Leader, Hazzan, Director of Education, and Executive Director at Temple Am David, a United Synagogue Affiliate, in Warwick Rhode Island. He served as the Rabbi at West Bay Community Jewish Center (WBCJC) in Warwick.
Rabbi Richard Perlman received his rabbinic ordination in January 2012 and is the Vice President of the Vaad HaRabbonim D'America, (the American Board of Rabbis). Rabbi Perlman received his Yoreh Yoreh S'micha (Rabbinic Ordination) and earned a T'udat Mashgiach (Kashrut Supervisor Certification) from the Vaad.
Perlman, also a Cantor (Hazzan), has been a soloist and a member of duets, quartets, and quintets including "The Cantors Perlman" in several cantorial concerts and worship services throughout the United States and Israel. He has led services at Congregation Beth Israel in Bath, Maine and at Temple Beth David in Narragansett, Rhode Island. He taught Jewish studies in the South County Hebrew School and has been a visiting lecturer at many senior social organizations. Rabbi Perlman served as a Judaism lecturer at University of Rhode Island, Rhode Island College, The New England Technical Institute, LaSalle Academy as well as many various other institutions of learning around the state of Rhode Island. Furthermore, Rabbi Perlman has been instrumental in planning and leading many highly respected and well attended interfaith services with neighboring faith communities.
Rabbi Perlman is a Past President of the North Shore Rabbis and Cantors Association, (NSRCA) and is an active leader and member of The Peabody Clergy Ministerial Association, (PCMA). He is a member of the Board of Rabbis of Greater RI and served as the Mashgiach liaison for the Phyllis Siperstein Tamarisk Assisted Living and a faculty member of JSLI (Spiritual Leaders Institute).
Rabbi Perlman is quite active in the community serving on an Interfaith Community Dialogue Planning Committee, hosted by the Mayor of Peabody. He actively participates in community programming throughout the year. He also leads Shabbat evening services monthly for the residents at Brooksby Village. Rabbi Perlman visits and teaches at nursing facilities around the North Shore.
Perlman attended the Peabody Police Citizens Academy in 2017 and serves on the The Northeastern Massachusetts Law Enforcement Council (NEMLEC) Critical Incident Stress Management (CISM) Team of the North Shore - Rabbi Perlman serves as a Chaplain on the Peabody Police Department and is a Member IACP  (International Association of Chiefs of Police)
Rabbi Richard Perlman and his wife, Kit, are the parents of Jessica, Michael, Owen, and Kristina, and proud grandparents of Brady, Bryce, Ezra, Bennett, and Eisley.
Contact Rabbi Perlman at [email protected]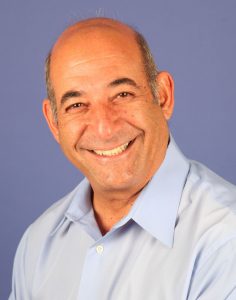 Associate Rabbi Bernie Horowitz
Bernie was ordained as a Rabbi in July 2015 by the "Jewish Spiritual Leaders Institute" of "The Rabbinical Seminary of Congregation Sim Shalom", New York, NY. Although Rabbi Bernie chose not to be a pulpit rabbi with a congregation at the time of his ordination, he has and still performs rabbinic duties such as baby naming's, b'nai mitzvoth, weddings, and funerals to name a few. He also served as interim rabbi in 2015-2016 right here at TNT. Prior to being a rabbi, he served as Spiritual Leader and Ritual Director from 2000-2013 at Congregation Sons of Israel in Peabody Square where he conducted all the Shabbat, Yom Tovim, and High Holiday services. He was also Baal Shacharit and occasionally the cantor for the high holidays. And over the last 20 years or so, he taught Hebrew school and B'nai Mitzvoth students at Temple Beth Shalom and Temple Ahavat Achim and currently he's teaching one of our high school classes.
Rabbi Bernie also attended the Hebrew College Prozdor Program through high school (with some of our Temple members) and earned a Bachelor of Arts degree in Psychology from Northeastern University.
Rabbi Bernie also partners with his wife Anita as real estate brokers at Remax Advantage in Peabody. And for the last seven years, he has and still serves as chairman of the Peabody Board of Health.
In addition to that, he has accompanied the Y2I teenagers to Israel on educational tours every July as senior counselor for eight of the last ten years. He also serves on the Board of Advisors for the Lappin Foundation and the North Suburban Jewish Community Center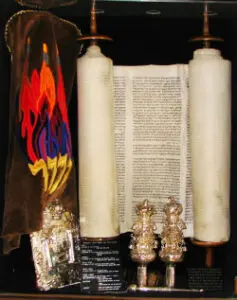 by Henry Kaplan z'l 
The HOLOCAUST TORAH
in Founders Hall
This Torah from Kladno, Czechoslovakia is number 1264 of 1564 scrolls taken by the Nazis during World War II for their "Museum of an Extinct Race"
It was late summer of 1959, Rosh Hashanah and Yom Kippur were approaching, and a major development of the area west of downtown Peabody was taking place, especially in the area now known as West Peabody. The exodus from the Jewish ghettos around Boston brought many Jewish families into these new housing developments.
One of these families was Janet and Al Cohen, who recently moved from Kansas city. Following a yahrzeit minyan at their home for Janet's father, they suggested to those present that a 'Temple should be formed'. Present and interested were the Zeltzers (Hy and Jean), the Steiffs (Charlotte and Leon) and others.
What would they do for the holidays? Many, if not most, had come from orthodox Shuls but they weren't inclined toward the orthodox any longer. This was a shift taking place not only in Boston, but around the country. A group of these people came together to plan for the coming high holidays. They rented Cy Tenney Hall in West Peabody for the services. Somehow, they came up with a torah and the services were conducted by Leon Steiff and others.
Many new friendships were formed at these services and this group was the beginning of a new Jewish movement in the city. Between Rosh Hashanah and Yom Kippur, there were a number of meetings held in people's homes. Temple Ner Tamid had begun! Shortly thereafter, a Sunday school was started at the Cy Tenney hall.
Much work needed to be done. If there were to be services
on Shabbat, where would they be held? Would we need a Rabbi right away? And what else would be needed?
Many people joined. These founding members established dues initially at $18.00.
The Temple's first home was Anshe Sfard, a small Shul on Littles Lane in Peabody square.
Although there was a Hebrew School at the Community Center, the Temple membership felt that Ner Tamid should have its own Hebrew School. Where to hold it? There wasn't enough room at Anshe Sfard. The location chosen was the building owned and used by the Sephardic congregation on Pierpont Street. This had been a multi-story home that now housed the Sephardic congregation. With the help of city school officials, old used desks and chairs that the city no longer needed were obtained and the school was started. A number of temple congregants who were teachers had an important hand in starting the school and forming its early curriculum.
The year following the formation of the Temple, the high holidays were approaching. Where to hold high holiday services? The North Shore Shopping center, an open mall, had been built 6 years earlier and they had an auditorium in the lower level. This was to be the location for Rosh Hashanah and Yom Kippur services  until the Temple was completed in 1965.
At this time, the Temple membership was in the range of 120 to 150 families. If a building was to be built then a piece of land would have to be obtained and funds raised.
A plot of land was obtained. The land, on which now stands the pilgrim nursing home, was to be the home of Temple Ner Tamid.
A fundraiser was hired and a campaign initiated to raise the necessary funds for a new building. While this was going on, the land upon which the temple now sits became available.
Through the efforts of the late Judge Abraham Ankeles the land parcels were swapped somehow and the Temple Ner Tamid building program was off the ground. The architectural firm of Bedar and Alpers was hired to design a building. Once the design was approved, a contractor was engaged. The groundbreaking ceremony was a gala event attended by a large throng including many city officials. At the time, there was no road and people had to climb through the woods to get to the top of the hill where the ceremonies were to take place.
Message from our TNT President, 
Adele Lubarsky 
Shalom!
I am pleased to welcome you to Temple Ner Tamid. Temple Ner Tamid has been my family's spiritual home for more than 30 years although my connections to Temple Ner Tamid go back over 50 years as the daughter of the butcher/ Bingo dinner caterer and as a teacher in the Religious School in the 1970's.
Temple Ner Tamid was built on a dream. Our founders envisioned a Jewish community for families where celebrations could be celebrated and traditions could be passed from generation to generation consistent with the values of conservative Judaism. Our Religious School and our youth programming are flourishing. We are hoping to bring back programs for our pre-schoolers on Sunday mornings.
Dreams alone are not enough. Through dedication, commitment, and the generosity of our congregants, a lot of hard work and determination, dreams become a reality. At TNT we are dreamers and doers. Our founders followed their dream as TNT grew. We must continue to connect to our past as we look into the future. It is time for us to dream about what the future can hold for our community. It is time for us to make new history solidifying the past and committing to the future. The challenge is great.
Our Temple community has so much to offer from daily evening minyanim, to Shabbat and Yom Tovim services, to social action projects, to social events, to adult education including exercise classes and Israeli dancing, to family activities, to celebrating during the good times and comforting during the not so good. Our Temple community is vibrant because of our amazing members and of course our professional staff including Rabbi Perlman and Rabbi Bernie. I guarantee there is something for you.
I look forward to your joining our Temple community.
B'shalom
Adele Lubarsky, President
President:
Vice Presidents:
&nbsp
&nbsp
Treasurer:
Financial Secretary:
Recording Secretary:
Corresponding Secretary:
Immediate Past President:
Men's Club President:
Sisterhood President:
Adele Lubarsky
Ed Gustat
Mimi Levy
Frank Chmara
Richard Strauss
Barry Falkoff
Leona Kaplan
Paula Dollin
Eric Richman
Steve Ring
Loretta Band
Rabbi:
Associate Rabbi:
Synagogue Administrator:
Bookkeeper:
Religious School Director:
Rabbi Emeritus:
Cantor Emeritus:
Richard Perlman
Bernie Horowitz
Beth K. Hoffman (Retired)
Linda Swears
Susan Sugerman
Abraham Morhaim z'l
Sam Pessaroff z'l
SOME PHOTO MEMORIES OF TNT 
TNT Hebrew School Graduation